If you asked me to describe Dubai, I wouldn't say anything about supercars, luxury hotels or malls. We, Eastern Europeans, go to Dubai with two expectations, or rather two prejudices. It is a country where the wealthy and opulent live in luxury hotels, supercars, and impressive malls.
Instead, I'd rather tell you that Dubai has excellently thought out laws and regulations. It is also cosmopolitan with zero tolerance for criminality. It is the land with four lanes and people who smile, regardless of whether they are cleaning the streets or using public toilets, it is the land of four-lane streets. You can visit luxury beaches and free public beaches. Here you will find the latest Chanel models as well as the latest H&M collections. A meal for two at an average restaurant in Dubai costs the same as Romania. Let go of your prejudices and read below to learn more about Dubai and the 5 things we recommend for you if you do decide to visit.
Dubai: 10 things you should know
1. The environment is very safe as theft and physical abuse are not tolerated, regardless of whether they're in bars or on the streets. The Emirates have a simple system: for any minor violation of the law you are fined, sent to jail, or kicked out.
2. Women are protected and respected. UAE is not Saudi Arabia. Saudi Arabia allows women to be executed in public places. It is not true that the entire Arab world punishes women for speaking out. This would be like saying that all Romanians are thieves or criminals because only 1-2 of their fellow citizens spoke up in Italy. You have the freedom to wear whatever you like in Dubai.
3. Dubai is not a conservative and modest place. No one will throw you in jail for wearing a short skirt, or holding hands with your lover while you are out on the streets. As in all western countries, the same rules of minimum decency apply.
4. Because the fines can be stinging, everyone is used to using trash cans and everything is clean. You are prohibited from eating, drinking, chewing gum, and even using the subway.
5. The cost of daily life is comparable to Romania, except for rents and property prices. You will pay the same amount for food and drink at both the supermarket and the restaurant. Surprisingly, but it is true.
6. The infrastructure for public transport is excellent, including metros, buses, trams and taxis. RTA, or the Roads and Transport Authority also regulates taxis so there won't be any surcharges or refusals from bad drivers. All drivers are respectful, shirtless and don't smell of sausages.
7. Dubai has a very sophisticated system to check vehicles so you won't see any ruffians. A license is required to drive. It's basically a registration for a vehicle. This license must be renewed each year. Yes. Every year, the cars are tested and can't drive on the streets if they fail to pass the tests. A sticker will be placed on each car's registration with the expiration date.
8. Dubai is an ideal place to witness how different cultures interact. It is one of the United Arab Emirates, and technically an Arab country. However, it is a mosaic of cultures and nationalities. A large number of Indians, Pakistanis, and Filipinos have travelled to Dubai for the betterment of their lives. This is in addition to Westerners like the British, French and Germans. Dubai is the city of globalization if you will.
9. Dubai's heat can be unbearable during summer. To really enjoy the experience, you should visit Dubai between November-March, when temperatures are around 28-30 degrees and 18-22 at night.
10. Thick clothes are necessary. It's not because it's freezing outside, but because it is cold inside. Dubai has air conditioning that is set at 19-20 degrees. This will force you to take a jacket out of the bag.
Dubai: 5 Things to Do
Visit Burj Khalifa or Mall Dubai to see the Dubai Fountain Show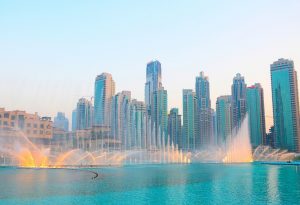 Although it is a very crowded area, it is a great place to see 5+ star Dubai. The Dubai Mall is the largest shopping mall in the world. You can visit it to shop or eat. You can then see Dubai from the Burj Khalifa, which gives you an amazing view thanks to the sea sand towards the horizon. Although it might seem boring and predictable, the fountain show is quite impressive. I've never met anyone who said the moment gave them goosebumps or that the choreography and music weren't great.
Visit Al Seef – Dubai Creek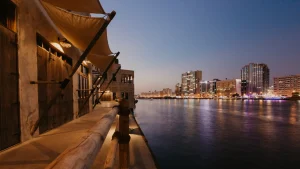 You will find a place dedicated to the history, culture and heritage of Dubai in the middle of this modern city. Al Seef, or Dubai Creek, is a series of streets that run along the banks the canal. It houses a replica of an old city, complete with cafes, restaurants, hotels, and museums.